Cloud computing, popularly known as "the cloud", outlines a variety of Internet-based computing services like storing, managing, accessing data and programs.
---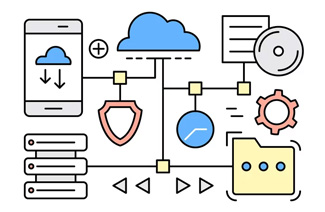 About cloud computing
Cloud computing boasts several striking benefits for businesses and end users. Cloud computing will completely drive off your burden as management of hardware and software will not be your responsibility anymore.
By availing of our cloud computing solutions you are only required to pay for what you need. Say no to the limitations while making cosmic investments in hardware and endless time spent on the heavy lifting on managing the hardware. We give you an opportunity to smoothly conduct your business activities with no limits. Furthermore, our cloud computing services render you with quick access to convenient and affordable Information Technology (IT) services and choose the right type and size of computing resources to implement your idea.
Uses of cloud computing
Our Cloud computing enables you to consume compute resources, such as a virtual machine, storage or an application, as a utility. Cloud computing resources with a great flexibility allows easy access over the network. Through cloud computing, we provide readily available environments tailored for your needs at your fingertips. Cloud taps not only structured but also unstructured data to harness the benefit of extracting business value. It also offers you the possibility of storing your files and accessing and retrieving them from any Web-enabled interface.
Backing up data has always been a complex and a time-consuming operation. Cloud-based backup allows you to automatically dispatch data to any location without worrying about the security, availability, or capacity issues. Cloud computing, fairly easy to manage, reduces the load on servers and IT teams and centralizes and unifies computer standards.
Benefits of our cloud services
---
Low Cost
We offer you the greatest cost savings in the form of affordable cloud services. You could save substantial capital costs with zero in-house server storage and application requirements. Avoid large capital expenditure on hardware and upgrades. In simple terms you only pay for the resources you use. Cloud computing utilises remote resources, thereby saving your cost of servers and other equipment.
High speed
We offer on-demand cloud services; therefore, you can easily provision even large amounts of computing with just a few clicks. This removes the burden of capacity planning and ensures high-speed coupled with optimum flexibility.
Global reach
Cloud computing has the ability to scale elastically. It delivers just the right amount of IT resources, which include computing power, storage, bandwidth, and much more. Through cloud services we offer you what is needed and from the correct geographic location, thereby ensuring global reach.
Enhanced productivity
On-site datacenters and IT infrastructure require complex hardware set up, software patching and other IT management chores, which consume a lot of type. With our cloud computing services the need for such tedious tasks is eliminated. Your IT department can solely focus on essential business objectives and leave the rest on IWS.
Superior performance
Our cloud computing services operate on a large network of secure datacenters, which are equipped with the latest, quick, and efficient computing hardware. This reduces network latency for applications and provides greater economies of scale.
Reliability
With our cloud services you could conveniently backup your data and meet IT requirements at affordable rates. This is because data could be duplicated at several redundant sites on our network.
---
How our cloud computing works
We, at IWS provide a user-friendly, browser-based dashboard that makes it easier for you to order resources and manage your accounts. We provide cloud computing services to all sizes of businesses. With our cloud services we help you function quickly and reduce your IT costs.
If you're worrying about the price, fret not! We offer cloud computing solutions at affordable rates so that you only focus on your business and leave the rest on IWS.