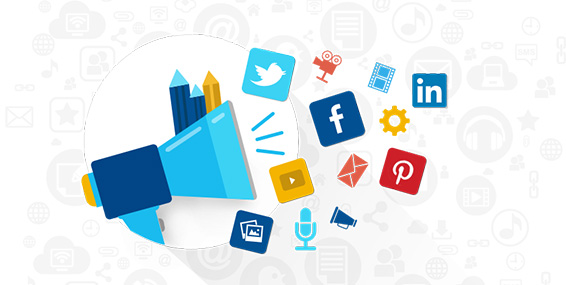 Social media marketing is a form of internet marketing with the usage of profuse social media platforms and websites to achieve marketing communication, branding goals, promotion of product and services and broaden your customer's horizons. Our main objective is implementation of social media networks and identification of the right audience.
In a world where vows are worthless, we are committed to excellence. Our policies make us ardent to fulfil your target audience's needs by rendering them with swift services and reliable content.
---
Various Social Media Platforms Covered by IWS:
Facebook
Facebook, one of the top social networking sites has become a paramount element in the field of communications. With effective Facebook marketing, our social media specialists will help you reach out to your customers and increase traffic to your website.
Twitter
Twitter serves as a micro blogging outlet for not only individuals and celebrities but also business brands. Through our services you could interact with your and generate positive word-of-mouth. You may rely on IWS for everything from handling your account, to promoting tweets to marketing strategy to campaign management, and much more.
Instagram
Instagram, well known as trendy social media platform, lures large number of your customers with visual marketing. With qualitative dimension, our experts build your brand in a creative manner. With powerful Instagram marketing, we offer an array of activities, such as keyword research, identification and segmentation of target audience, creative development, campaign setup, besides other things. At the end of each activity, we also provide performance reports so that you could see the positive results!
LinkedIn
LinkedIn is the best platform to make business connections. A boon for B2B businesses, LinkedIn helps you connect with industry leaders. Our expert team will manage your company's LinkedIn page so that you establish business credibility and improve your online rankings. With group conversations, powerful business profile, and latest updates, our managers will directly connect you with the decision-makers at top companies in your sector.
Pinterest
One pin to ten pins, ten pins to another ten and so on, marketing on Pinterest is an unstoppable journey. With marketing on Pinterest, the giant visual search engine for new things, we help you increase back links to your website, drive more traffic, increase sales, raise brand profile, and enhance your exposure to wider audience.
Snapchat
A unique and fun photo-sharing app, Snapchat has become a powerful marketing tool for all types of businesses. We create region-specific marketing strategies for your brand through various features like Geofilters, Sponsored Lens, and Snap Ads. We ensure you receive instant results through interactive marketing.
Our process:
Social media analysis
Social media audit
Topic ideation aligning with recent trends
Creation of marketing strategy based on demographic analysis
Social customer retention and branding strategy
Social tool analysis and configuration
On-site social sharing
User-engagement strategy
---
Pay Per Click (PPC)
PPC is a type of marketing where you could pay to display your ads on well-known search engines. When a customer searches something using your business keywords, your ad appears near the search results in sponsored links. You are required to pay only when the user clicks on your link.
Our search engine experts understand your requirements and create a successful PPC campaign for your business. We conduct extensive market and SEO keyword research. Thereafter, we create your account on Google AdWords and give you ads that generate clicks. We create landing page designs so that you generate leads and your visitors are converted to paid customers.
So, stop procrastinating and switch to IWS! We put your money to right use and ensure you enhance your customer-base with effective social media marketing.